Nimbua Greenfield (Punjab) Association (NGPA), earlier known as Nimbua Greenfield (Punjab) Limited is a section 8 Company under The Company Act, 2013. Dividend or, profit is not payable to the promoters or, shareholders since, it is a 'not for profit' Company. NGPA has developed sole common Treatment, Storage and Disposal Facility (TSDF) in Punjab duly authorised by Punjab Pollution Control Board (PPCB) for disposal of hazardous waste and domestic hazardous waste generated in Punjab and U.T. Chandigarh apart from installing Common Incinerator and AFRF. Facility is situated away from habitation at village Nimbua about 10 km North of Derabassi, district Mohali at the boundary of Punjab and Haryana.
India is a signatory to BASEL CONVENTION on the control of transboundary movements of hazardous wastes and their disposal. The Hazardous and Other Wastes (Management and Transboundary Movement) Rules, 2016 have been notified by the Goverment of India and being implemented in fulfilment of her obligation under BASEL CONVENTION.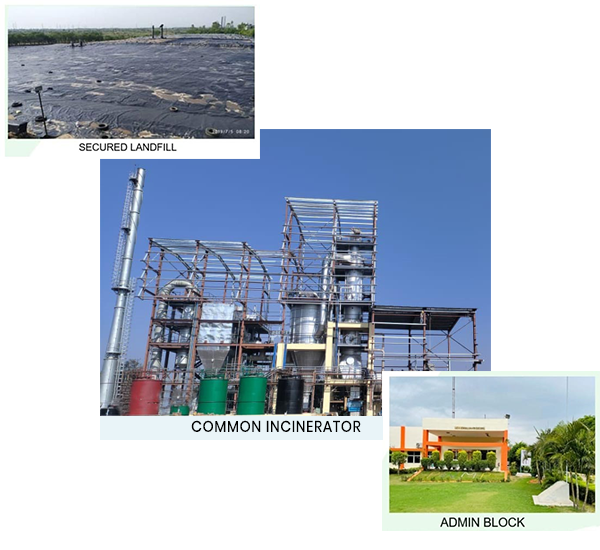 Genesis
Supreme Court of India ruled in 2003 in re W.P.(C) 657/1995: Research Foundation for Science, Technology and Natural Resources Policy vs Union of India & Others that all States including Punjab should have at least one common TSDF for hazardous waste. Punjab Government exhorted the industry to come forward to form a SPV for establishing common TSDF in Punjab and Nimbua Greenfield (Punjab) Association was formed on 1st March 2004.
Promoters
NGPA was promoted by a group of nine companies under the chairmanship of Padma Vibhushan Shri S P Oswal, Chairman and Managing Director, Vardhman group of companies to develop and implement the project for establishing TSDF for hazardous waste being generated in Punjab. Promoters of NGPA are:
Vardhman Textiles Limited
Sun Pharmaceuticals Industries Ltd
Hero Cycles Limited
Aarti Steels Limited
Ind Swift Laboratories Limited
Nahar Capital Financial Services Limited
Avon Cycles Limited
Trident Limited
Steel Strips Wheels Ltd
Share holder
Apart from above listed promoter companies, nine other companies are also shareholders of NGPA, namely:
Punjab Chemicals & Crop Protection Ltd
Godrej & Boyce Mfg. Co. Ltd
Nectar Lifesciences Limited
Upper India Steel Mfg. & Engg. Co. Ltd
Modern Steels Limited
J.C.T. Ltd
Akums Lifesciences Ltd
Ralson (India) Limited
Rainbow Denim Ltd
Assistance received
Punjab Government supported the project in the true spirit of public-private partnership. Concerted efforts were made by Punjab Science & Technology Department and PPCB for acquisition of 20.74 acre land which was given to NGPA for the project on a nominal lease. Project implementation was facilitated by the Department of Industrial Policy & Promotion, Ministry of Commerce, Government of India by means of a grant of ₹ 12.69 crores to NGPA under Industrial Infrastructure Up-gradation Scheme.
Guidance, Supervision and Consultancy
Punjab Pollution Control Board commissioned EIA study for the project in 1998-99 through MANTEC Consultant Pvt Ltd, New Delhi . A high powered Technical Committee was constituted under the chairmanship of Principal Secretary (Science & Technology), Punjab for overseeing all crucial matters. Technical Committee comprised technical experts and representatives from PPCB, Central Pollution Control Board (CPCB), Ministry of Environment, Forest & Climate Change (MoEF&CC), industries of Punjab and NGPA. Tetra Tech India Ltd was appointed as consultants for carrying out detailed inventorisation studies. Senes (India) Limited was appointed as technical consultants for preliminary design and engineering study. After going through a bidding process with the assistance of IL&FS, Re Sustainability Limited (earlier known as Ramky Enviro Engineers Limited) was awarded the contract for design, construction and operation of the project.
Our Mission
To contribute towards a safe and healthy environment by transporting and disposing hazardous (industrial) waste generated by industrial units in Punjab and U.T. Chandigarh, ash from common bio-medical incinerators, domestic hazardous waste from local bodies and sludge form Effluent Treatment Plants (ETPs) and Common Effluent Treatment Plants (CETPs) by following environmentally benign good practices. We are helping the industries of Punjab and U.T. Chandigarh in compliance of The Hazardous Wastes Rules apart from municipal authorities in compliance of The Solid Waste Management Rules, 2016.
Operator
Re Sustainability Limited is the present day operator of the facility.
Achievements
The facility was commissioned in record time of 3 years and 6 months.
The facility is under operation since 3rd Oct 2007 and it can be safely said that the objectives set forth have been achieved satisfactorily.
At present, the facility has 3126 generators as member who are regularly sending their hazardous waste to the facility. A total of 3.89 lakh tonne of waste has been treated and disposed off, processed or, incinerated in the landfill as on 28.02.2023 since inception.
All directions / guidance / advisories of MoEF&CC, CPCB and PPCB are being followed in letter and spirit by proper handling and disposal of hazardous waste to ensure a cleaner and safer environment.
A majority of industries generating hazardous waste in Punjab and U.T. Chandigarh have become members of the facility. It is an ongoing effort on our part to get as many members as possible so that all hazardous waste is collected and treated, processed or, incinerated to prevent the environment being polluted.
Existence of TSDF has given impetus to industrialization in Punjab while ensuring compliance of environmental laws.